About Obagi Skin Health Institute - Beverly Hills, CA
The Obagi Skin Health Institute is the brainchild of acclaimed dermatologist, researcher, and innovator Dr. Zein Obagi. This comprehensive, family-run business first opened its doors in 1985 as Obagi Dermatology Medical Clinic in Beverly Hills, California.
The Institute serves not only as a base of operations for Dr. Obagi's ongoing research and education but as a center for cosmetic dermatology, plastic and cosmetic surgery, aesthetic services, and advanced laser procedures.
In 2006, the new flagship, now known as the Obagi Skin Health Institute, opened in its current Beverly Hills location to rave reviews. Here, practically any and every kind of skin care treatment is offered – all in a calm, spa-like atmosphere. A third location was opened in Laguna Beach, California in 2013. It's an architectural and clinical masterpiece right next to the ocean and near the resort community of Laguna Beach.
At the Obagi Skin Health Institute, you can enjoy life-changing treatments – topical skin care, indulgent facial treatments, and medical procedures. Our comprehensive treatments are specifically designed to restore and rejuvenate your skin.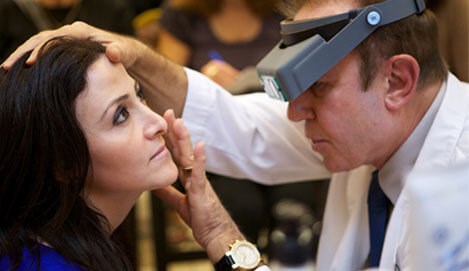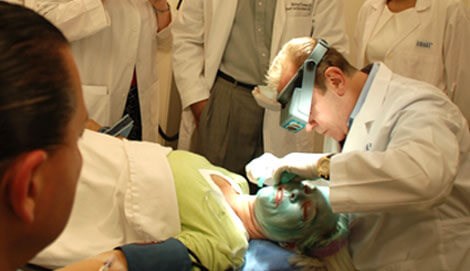 Physician Education A Physician's Learning Curve Never Ends
Continuing the Legacy and upcoming training sessions
The traditional and narrow approach of treating skin focuses on disease or their symptoms. This limited approach often leads to little improvement, frequent recurrences, along with treatment failure. Dr. Zein Obagi contrasts this approach by focusing on two primary yet parallel objectives that target the core of the problem: the cells. Restore skin health while treating the disease by comprehensively correcting cells and repairing their functions.
Lectures, personal one-on-one consultations, and comprehensive training programs taught by Dr. Zein Obagi himself are available.
More Bio Information Credentials at a Glance
He earned his medical degree at the Damascus Medical School and completed his internship at the Deaconess Hospital in Detroit. He did his residency in pathology at the William Beaumont Hospital in Royal Oak, Michigan and then did a one-year residency in obstetrics at Henry Ford Hospital in Detroit.
He served as a Naval Medical Officer, Resident in Dermatology and Staff Dermatologist for the United States Navy in Honolulu, San Diego and Long Beach.
Today, he is a board-certified dermatologist; Diplomate of the American Academy of Dermatology; a member of the American Medical Association; the American Academy of Cosmetic Surgery; the American Society of Dermatologic Surgery; the International Society of Dermatology; the Society of Investigative Dermatology; and the American Academy of Aesthetic and Restorative Surgery.
Maybe the most remarkable thing about Dr. Zein Obagi is his ability to accomplish things that others thought were impossible. Here are some of his contributions that qualify him as a prodigious force of change:
The concept of "skin health" was unheard of when Dr. Zein Obagi began to change the paradigms of skin care. He changed traditional philosophy from superficial skin treatments to modalities that addressed problems at the cellular level. Along with a few other physicians and game-changers, that put him at the forefront of the anti-aging revolution.
Some conditions, such as melasma, are especially difficult and unresponsive to conventional treatments. Dr. Zein Obagi gained national attention by successfully treating cases that seemed impossible. Because of his success in treating advanced skin damage, Dr. Zein Obagi became the "go to" physician for problem skin.
Some skin conditions occur more often in Asian, African American or Latino skin, and when they do occur, they are more difficult to treat. Dr. Zein Obagi was the first doctor to develop treatment protocols for different ethnicities.
He introduced a Skin Classification System that enables physicians to determine the best treatments and predict patient response based on ethnicity and skin type.
He established the definition of Skin Health—a concept that was unknown in the 1980s. That enabled physicians to achieve better results because they could determine the solution instead of just the problem.
He was the first dermatologist to develop physician-dispensed skincare products, Obagi Nu-Derm®. Being first is good. But what's even more important is being best. For more than 20 years Obagi Nu-Derm® was considered the most effective topical products for treating acne, skin aging, sun damage, and hyperpigmentation.
He one-upped his own Obagi Nu-Derm© formulations when he introduced ZO® Skin Health and ZO® Medical products, which feature new ingredients, advanced technology, and more effective formulations. This new treatment philosophy raises the standard for the treatment and maintenance of healthy skin.
He created the Obagi Blue Peel®, a medium-depth peel that dramatically reduces wrinkles, improves skin tone and texture, reduces pore size and tightens skin. Even today, the procedure is unsurpassed in medical aesthetics.
He has been awarded five U.S. patents for devices and methods for treating skin damage.
He has trained thousands of physicians on products and treatments for skin rejuvenation and restoration, both at his clinic in Beverly Hills as well as at seminars and workshops worldwide.
He has lectured at the American Academy of Dermatology, the American Society of Plastic Surgery, the American Society for Aesthetic Plastic Surgery, the European Academy of Facial Plastic Surgery, the FACE Conference, and professional conferences and symposia in 28 different countries.
He wrote and updated "The Art of Skin Health Restoration and Rejuvenation: The Science of Clinical Practice"—the definitive medical textbook on the subject of skin health.
For more than 30 years Dr. Obagi has challenged himself, his staff, his products, and his patients to achieve the best possible skin health. That's why he goes beyond the laboratory and the classroom and continues to practice at his clinics. For him, that is what is most gratifying—living proof that the best philosophies, the best products, and the best procedures deliver the best patient results.
DISCLAIMER:
"Obagi", "Nu-Derm", and "Obagi Blue Peel" are registered trademarks of Obagi Medical Products. ZO Skin Health, Inc., and Dr. Obagi have no business relationship with Obagi Medical Products, and Obagi Medical Products does not sell or endorse using any ZO product. "ZO" is a registered trademark of ZO Skin Health, Inc.